F O R E X E A M O N I T O R
The EA Monitor expert advisor was designed for monitoring the status of trades generated by expert advisors--status information such as number of wins, losses and pips for the day, week and month, historical drawdown stats, progress and info pertaining to current trades. But it can be used to monitor any types of trades, not just auto-trades, including trades with and/or without Magic Numbers. It can be set to monitor a single currency pair or up to nine pairs. It also does some minor trade management, like moving the stop to Break-Even when a trade gets to a certain profit level, or stopping a trade when its drawdown gets to a certain pip level or percent of account level or taking profit when a specified profit level is achieved. It also provides popup, sound, and email alerts when profits or drawdown achieves a specified level.

Already own it? Members

Note: Sometimes a PC's security is set to block popups, so you might get a "Page not found" or "Page Error" message. If so, come back to this screen and before clicking on the Members button, hold down the Ctrl key on your keyboard and then click on the Members button.

The price of the EA Monitor is $26 USD.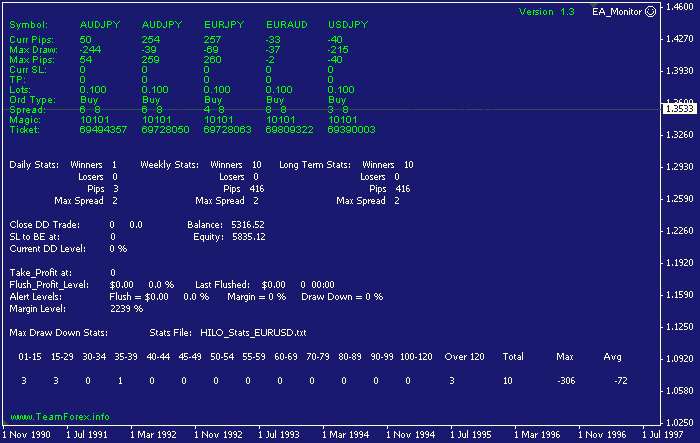 Click here to check out our Trade Manager -- Try it, you'll like it!






| Home | Contact Us | Risk Warning | Privacy Policy |